Formalities for entering the USA
In order to prepare for a stay in the United States, it is necessary to obtain the necessary documents to enter the United States.
For a stay of less than 90 days in the United States: You can complete the formalities for entry into the United States directly by Internet by clicking on the online form. There is no need to make an appointment at the U.S. Embassy or Consulate, or to obtain a visa.
The United States is a great place to visit for tourism or business. Your stay can also be an opportunity to receive quality medical care or higher education. Entry into the United States can be accomplished in several ways, by obtaining :
Below we review all the information about the ESTA travel authorization. We present you its requirements, how to obtain it and the different precautions to observe for its application.
What is ESTA?
The Electronic System for Travel Authorization is a travel authorization that allows anyone wishing to visit the United States to travel by air or sea, after completing a prior procedure. Managed by the Homeland SecurityU.S. Department. The ESTA declaration is an online-only application for travel authorization. Originally, this formality to enter the United States was put in place to facilitate access to the American territory.
A true request for authorization to stay, the ESTA form is mandatory and requires certain conditions to be met. If the conditions are not met, the traveler will have to apply for a visa.
It is important to note that it represents only a prior authorization for travel. The ESTA cannot be used as a visa or guarantee entry into the United States. U.S. Customs officials will decide whether or not to admit you when you pass through security once you disembark.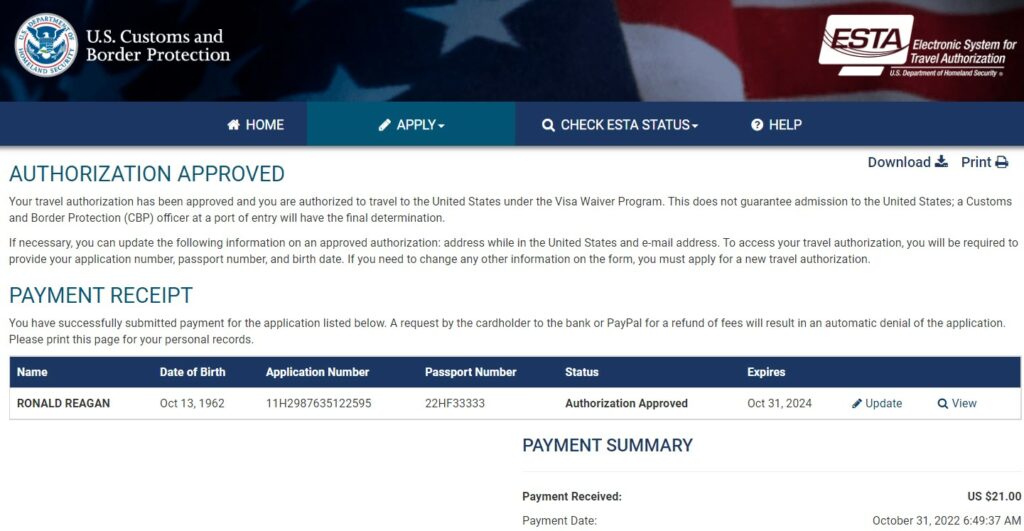 > What are the ESTA requirements?
All travelers have the opportunity to submit an ESTA application. On the other hand, it is necessary to make sure beforehand that your trip meets the following conditions, you must :
You must have a valid passport at the time of your application and until your return to your country;
Be a citizen of one of the 40 countries participating in the Visa Waiver Program;
Plan a trip of up to 90 days for tourism or business purposes;
Be in possession of an optical or biometric passport;
You must have a return airplane ticket prior to your application or a ticket specifying your destination if the USA is only a stage in your trip (in case of transit);
Travel with a U.S. recognized airline;
Never having violated U.S. law during a past visit;
Not having applied for a visa that was previously denied;
Fill out the application form with your information;
Finally, you will have to pay a processing fee to validate your order.
To maximize your chances of obtaining your authorization in time, it is best to apply at least 72 hours before your departure to the United States. Your UK ESTA will be valid for two years or until your passport expires. The validity period allows for multiple entries into the United States if future travel is planned.
Important: if your information changes during the validity of your travel authorization, such as your name, gender or passport number, it is then required to renew your application on the official ESTA website using the new data. Finally, if your plan to visit the United States does not meet these criteria, you may want to consider applying for a U.S. visa instead.
> List of countries participating in the Visa Waiver Program
As of December 1, 2021, Croatia is officially a member of the Visa Waiver Program. Since the accession of the 40th country, the list of participating countries is as follows
| | | | |
| --- | --- | --- | --- |
| Germany | Spain | Liechtenstein | UK |
| Andorra | Finland | Lithuania | San Marino |
| Australia | France | Luxemburg | Singapore |
| Austria | Greece | Malta | Slovakia |
| Belgium | Hungary | monaco | Slovenia |
| Brunei | Ireland | Norway | Sweden |
| Chile | Iceland | New Zealand | Swiss |
| South Korea | Italy | Netherlands | Taiwan |
| Denmark | Japan | Portugal | Poland (2019) |
| Estonia | Latvia | Rep. Czech | Croatia (2021) |
List of Visa Waiver Program (VWP) countries
> Changes to the visa waiver program in 2016.
In 2016, the U.S. decided to make changes in the visa waiver program. These changes were made as part of the Visa Waiver Program Improvement and Terrorist Travel Prevention Act of 2015. Since the enactment of this law, some travelers are no longer eligible to travel to the United States under the Visa Waiver Program.
The groups of people affected by this change are:
Nationals of visa-exempt countries who are in Iran, Iraq, Sudan, Syria, Libya, Somalia or Yemen since March 1, 2011. It should be noted that there are exceptions for diplomats and military personnel.
Nationals of visa-exempt countries who are also Iranian, Iraqi, Sudanese or Syrian nationals.
> What are the questions asked during an ESTA application?

If you wish to apply for ESTA, you will be asked to fill out a form with several fields. The questions concern your personal information under the following headings:
Marital status: full name, date and city of birth, gender, marital status, parents' full names, links to your social profiles on the Internet;
Contact information: complete physical address, phone number, email address;
Profession: company name, contact;
Passport: number, date and place of issue, expiration date ;
Stay: complete physical address of the place of accommodation, telephone number ;
Travel: flight number, boarding city ;
Emergency contact: name, contact information;
Health and Behavior: 10 questions for which you must check "yes" or "no". They are about your health (contagious diseases), your criminal record and your relationship to American law.
At the end of the questionnaire, a last box remains to be checked. It certifies that you have read and understood the entire questionnaire.
> How much does it cost to get ESTA authorization?
To enter the United States with an ESTA authorization, you will have to pay an administrative fee when you validate your file. This fee is $21. This new fee is effective May 26, 2022. These fees are broken down into two parts:
The $4 processing fee charged to anyone applying;
The $17 authorization fee charged to anyone who obtains an approval. If your authorization is denied, you will only be charged $4 and the additional $17 you initially paid will be refunded.
When you use a private assistance service, you have to pay an additional cost. Private assistance companies charge you their fees in addition to the mandatory $21 in taxes paid to the government. This additional assistance fee is payment for the additional services provided.
> How long is an ESTA authorization valid for?
The ESTA is valid for 2 years from the date of issue. In order to travel with your travel authorization, your personal information must be up to date. If your marital status (first name, last name, gender, etc.) or your medical and criminal history changes during these two years, you must apply again. Also, if your electronic or biometric passport expires before the end of the two years, you must renew your authorization.
On the other hand, if your ESTA form expires during your stay, you will not be worried about the return trip by boat or plane; the document is only required when leaving for the United States. The ESTA allows you to stay on American soil for a maximum of 90 consecutive days.
If you wish to return to the U.S. during these two years, you may do so; however, you must wait three months before returning. Otherwise, if you do not wish to be subject to this waiting period between two stays, you will have to turn to another solution, apply for a tourist visa or a Green Card for example.
> Do children need an ESTA?
The ESTA is a prerequisite for anyone considering travel to the United States under the Visa Waiver Program. This includes people of all ages, starting with infants, children, adults and the elderly. There are no exceptions to this rule, even children who do not necessarily need a passport must have an approved ESTA authorization.
In this situation, parents are strongly advised to apply as a group and to include the application for their children in their application. The procedure is the same for everyone, there is only one form and only one single step whether it is for an adult or a child, the application for an ESTA for a child is the same as for an adult.
Do I need an ESTA or a Transit visa for a stopover in the USA?
Each traveler in transit to the United States must be in possession of a transit visa or an ESTA transit if he/she is a national of a member country of the Visa Waiver program VWP. When a traveler is traveling to a country other than the U.S. but is stopping over in the U.S., he or she must present a valid U.S. entry document.
When in transit in the USA, the traveler will also have to retrieve his luggage during the stopover to check it again on the next flight. This rule has been in place since the 2001 New York attacks.
Is ESTA the equivalent of a visa?
If you are planning to go to the United States, you must have an authorization to stay: it can be an ESTA or a visa, or a permanent resident card. The three documents are different, they are not obtained in the same way and are not aimed at the same profiles.
ESTA: For a limited stay, this is the simplest and least expensive authorization. It allows you to stay in the United States for a maximum of 90 consecutive days, whether for tourism or business reasons. All you have to do is fill out a form with questions about your marital status, medical and criminal history. Once your application has been approved by the U.S. Homeland Security, you will receive your document very quickly by e-mail. In less than 72 hours and in most cases the same day. The ESTA declaration does not allow you to get a job on the spot, to receive any remuneration or to take courses to obtain a diploma.
The American visa is for people who wish to stay in the United States for a longer period of time. The process is quite tedious and requires a visit to an embassy. The price of the document is more than 160 dollars on average whatever the visa requested.
The permanent resident card, called the Green card, is difficult to obtain. It is intended for people who wish to settle permanently in the United States, for family or professional reasons. Asylum seekers can also use it.
> What can I do with an ESTA?
You should pay attention to the activities allowed under the Visa Waiver Program before making the choice to apply for an ESTA to travel to the United States. Indeed it does not allow you to do everything on the American territory, you can have the following activities
Negotiate contracts or trade with correspondents in the United States, purchase goods ;
Attend conferences or trainings, whether professional or for business purposes;
Spend a vacation in the United States, visit different cities and states in the United States, visit friends or family in the United States;
Participate in events organized by various charitable organizations, travel to the United States to receive medical treatment ;
Participate in sports or musical events for which you are not paid, participate in short courses for which you do not receive any subsidy (e.g. music, theater, cooking courses).
> ESTA limitations
The simple ESTA travel authorization under the visa waiver program does not allow for all the activities one might want to have in the United States. Before you begin your ESTA process, you should review the list of activities you are not permitted to do:
Becoming a full-time or even part-time student, performing services and getting paid for it, being hired to work, whatever the form of employment;
Contribute to the press or journalism, join an air or marine crew, seek permanent residence in the United States.
How to apply on the Internet
The process of obtaining an ESTA online gets longer as the years go by, the number of fields to be filled in keeps increasing. This step is the first administrative step of your entry on the American territory, it is thus particularly important to start well your tourist or professional stay. Applying for ESTA online requires a number of precautions to be taken.
> Precautions to take when filling out your application
The ESTA application can only be made on the Internet on the dedicated website of the American administration, the online form consists of 3 distinct parts:
The first part contains questions about your identity: name, surname, date and place of birth, gender, etc;
The second part concerns information about your passport and the reason for your trip;
The third part is a series of questions where you simply answer yes or no. You will be asked to provide certain information about your present and past health status, as well as your criminal record.
Completing the form to obtain your official ESTA remains the most crucial step. The U.S. government emphasizes the importance of providing accurate and truthful information in order to obtain this travel authorization. Be sure to fill out the ESTA form with special attention to the first and second parts. Indeed, a simple typing error can compromise the acceptance of your application. Generally speaking, the most common error resulting in a denial of authorization is entering the wrong passport number. Be sure to check your information and correct it if necessary before validating your request. When everything seems to be correct, you just have to validate and pay the application fee on the next page. Once you have your authorization, your trip can begin.
You can apply for ESTA without any specific plans. It is not necessary to know your program in the United States before you leave.
Important Information: By checking the boxes to accept the terms and conditions for submitting your ESTA application, you also agree to waive the right to challenge any decision made by immigration officials upon your arrival on U.S. soil.
The information provided must be up to date and accurate. Therefore, if there are any changes in your marital status, health, or medical and criminal history, you are required to reapply for authorization.
Also, once your application is approved, only your email address and the physical address where you travel to the United States can be changed.
> Why get assistance for your trip
If you are about to travel to the United States, you need to prepare your trip and make sure that everything will go smoothly. Access to the U.S. territory is taken very seriously by the Homeland Security Department and U.S. Customs and Borders. The process of obtaining your ESTA will be essential to your successful passage through US customs.
If you choose to use a third party company to organize your stay in the USA, the services include all the online procedures including the collection of your personal information and their verification. The provider pays the necessary fees for the completion of your request and its sending by e-mail, the service that is provided includes:
Registering your application;
Careful verification of the information you have provided;
Assistance by e-mail or chat for any question related to the process;
Sending your form to the service authorized to issue the ESTA;
Receipt of your certificate by e-mail as soon as possible.
Since the process is fully computerized, you are not legally required to print the document in order to present it to the authorities when you arrive in the United States. However, in order to leave more serenely, our team advises you to keep a paper copy.
The majority of ESTA applications refused by the American authorities are related to data entry errors. By using professionals who are used to obtaining the ESTA, you limit the risk of errors and therefore of refusals that could delay the receipt of your authorization, which is mandatory for travel to the United States, in the absence of a visa.
Important: Please also be aware that if your application is denied, you must wait 10 days before reapplying. So if your departure is close, an assistance service can be the solution that allows you to leave serenely in the United States.
> Use a English form
Filling out a form can be a complex exercise, especially if it is in a foreign language. If you are worried about filling out your ESTA application incorrectly, don't worry, you can fill out the ESTA form in English.
Once you have obtained your ESTA, take the time to print it out as a precaution. If your ESTA is lost at the time of your departure, it is not serious. It is not mandatory to travel with the proof of obtaining. You are electronically registered with the U.S. government as having completed this formality.
ESTA refused, what can I do?
Your ESTA authorization is denied? First of all, you should carefully check all the information you have entered: marital status, passport number, round-trip ticket for a stay of less than 90 days, transportation company recognized by the program. The slightest error in the answers to the questionnaire may result in a refusal of authorization. In this case, a 10-day delay must be respected before making a new request. By choosing to use our services, you benefit from the experience of professionals who can carry out this verification for you.
The refusal may also be motivated by the government's desire to preserve the country's internal security. If you have committed serious crimes or offenses, the U.S. immigration authorities may decide to deny your application.
It is possible that your ESTA is pending. So no immediate response from the United States. This pending decision can last up to 72 hours. After a maximum of 72 hours, you will receive a formal response of acceptance or refusal of the ESTA.
If, after verification, you find that there are no errors on your form and that you do not have a criminal record, we advise you to go to the consulate or embassy to apply for a tourist visa for the USA.
For example, you can apply for a B2 visa (tourist stay) or a B1 visa (business stay) which will allow you to go to the United States for a maximum of 6 months.
You can also apply for a Green Card if your profile corresponds to one of the following categories: asylum seeker, family ties with a U.S. national, concrete job proposal…
How to change your ESTA
First of all, you should know that changing your ESTA is only possible in certain cases. If you have not yet validated the form, you can change the data entered. If you have already received your authorization, please note that only the addresses you provide can be changed (postal address and place of residence in the USA).
However, if your personal information is no longer current (changes in your marital status, criminal record, etc.) or if your passport has expired, you must renew your ESTA and pay the processing fee. As the ESTA is valid for two years, sometimes your information needs to be updated. We advise you to check the accuracy of the information before departure. The American authorities, who are very involved in the maintenance of homeland security, especially since the cases related to terrorism, could prevent you from entering the United States if they find any discordant information.
Check the validity of your ESTA before your departure. Keep in mind that the authorization only allows a stay of 90 consecutive days, maximum. You must leave the United States within this time period. If you do not meet this requirement, you could be charged with illegal immigration if you are stopped.
Organize your trip to the USA
In order to leave for the United States with peace of mind, take the time to organize your stay. Once you have completed the formalities for entering the territory, you can focus on the most enjoyable part: the itinerary you wish to follow. The American territory being very vast, you have a wide choice of cities to visit, among which :
New York City and its must-sees, such as Central Park, the Empire State Building, the Statue of Liberty, the Rockfeller Center;
Las Vegas, worthy of interest for its Grand Canyon, its mythical Las Vegas Strip, a mecca for adult entertainment. You will find huge themed casinos as well as shows of all kinds.
You can also prefer the sweetness of California, its beaches, its jet-set parties and the Hollywood studios;
If you are with your family, there is also the city of Orlando, with several theme parks, including the Magic Kingdom, which is sure to delight your children.