Transit visa for a stopover in the United States
Whatever your reasons for visiting the U.S., you will need to obtain official authorization beforehand. Whether it is in the form of an ESTA document for short stays of up to 90 days or a visa for a stay of more than 6 months, prior travel authorization is mandatory or you will be refused entry to the United States.
For a stay of less than 90 days in the United States: It is not necessary to apply for a transit visa. You can simply apply for an Electronic Travel Authorization issued by the United States. To obtain your certificate in a few minutes click on the online form.
Which visa allows transit through the USA?
Visas are classified alphanumerically in the USA, which means that they are assigned a letter according to their category and a number according to their subcategory. For a transit to the United States you need a C visa. There are 5 sub-categories of a C visa in the USA:
The C1 visa is for air or sea passengers;
The C1D visa is for air or sea crew members;
A C2 visa is exclusively for personnel working for the United Nations headquarters;
The C3 visa is for senior officials in transit;
and the C4 visa is reserved for passengers in transit under the ATP program (pilot training).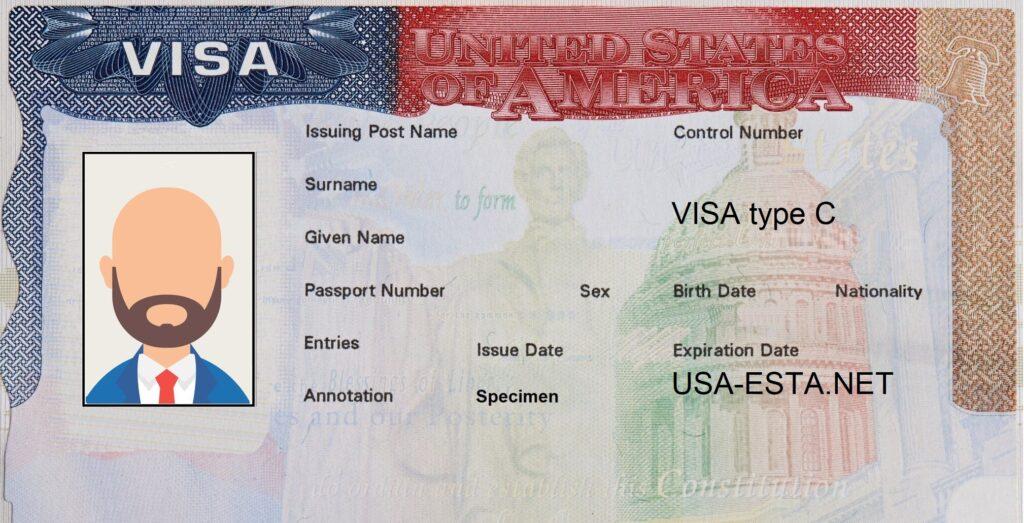 How to obtain a C transit visa in the USA?
As with any official authorization, you will need to put together a file with supporting documents. You will need to attach the following documents to your online visa application:
Your valid passport ;
Completed DS-160 form;
A recent passport photo;
A photocopy of your bank statement to prove that your income is sufficient to travel;
Your airline tickets to demonstrate your need to transit through the United States.
If you are traveling as a family, you will need to apply for a C1 visa for each adult and child. When the visa is granted, you will be allowed to transit through the United States for a maximum of 29 days. You can then get out of the airport and visit the area or go shopping if your connecting flight leaves a few days later.
What is the alternative to a transit visa for a stopover in the USA?
In recent years, ESTA travel authorization has become increasingly popular. Indeed, most travelers transit the USA with an ESTA.
The main reasons for its success are:
Its simplicity: an ESTA application is made entirely online. No need to make an appointment at the embassy or consulate. You can obtain your authorization via the Internet using your valid passport.
Its low cost: this authorization is up to 8 times cheaper than a transit visa. The fee for an ESTA is a minimum of $21 in mandatory taxes.
Its speed: obtaining an ESTA is usually instantaneous, but in all cases will take no more than 72 hours.
Instead of applying for a C transit visa that will take several weeks, make your life easier by obtaining a transit ESTA in a few minutes, especially if you only need to stop over at a U.S. airport for a few hours.