Visa B2 – US Tourist visa
In addition to traveling to the United States to work or study, you also have the opportunity to go onsite with a US visitor visa. The visitor visa allows you to travel to the United States for a tourist, commercial or medical reason. You will be able to visit the most famous tourist sites of the United States and meet Americans likely to become future professional relations of return in your country of origin.
For a stay of less than 90 days in the United States: It is not necessary to apply for a B2 visa. You can simply apply for ESTA online. The ESTA is an Electronic Travel Authorization issued by the United States and valid for stays of less than 90 days. To obtain your certificate in a few minutes, click on the online form.
The B2 visa is a U.S. visitor visa that allows you to enter the United States for the purposes of tourism, recreation, or visiting friends and family. U.S. tourist visa holders may participate in the following activities:
Participate in charity events
Get medical treatment
To spend vacations, to visit different cities of the United States;
Visit friends or family
Participate in a sporting or musical event without collecting payment;
Register for learning classes as a hobby.
If you do not find your travel plan in this list, you can not claim to obtain a Visa B2. You will then need to look at other types of US non-immigrant visas to find out which ones are possible.
For example, unlike the B2 visa, the B1 visa allows you to enter the United States for the purpose of negotiating a contract or attending conferences or other business-related events.
visa b2 image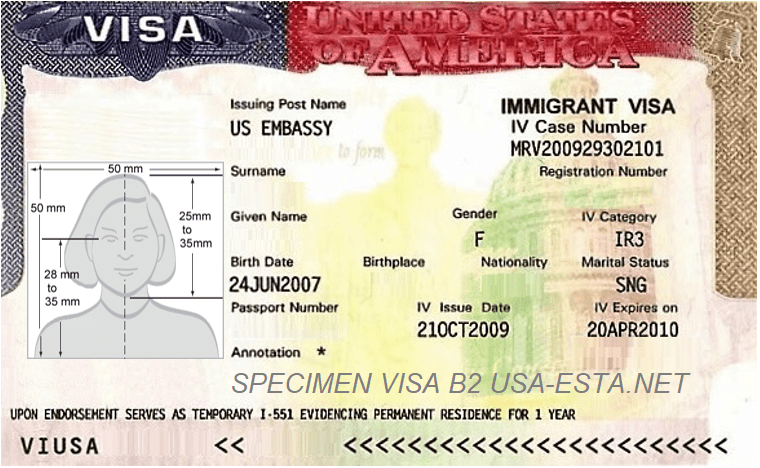 Do I have to apply for a tourist visa for the US?
Only those who do not participate in the US Visa Waiver Program must apply for a US Tourism Visa. If you come from a country that does not require you to apply for a US visa, you are in luck, you will simply have to follow the procedure to get your ESTA and then organize your trip. Canada has implemented the same Canada tourist visa waiver system.
Eligibility criteria for the B2 visa
To be allowed to travel to the United States on a tourist visa, you must meet the following eligibility criteria:
Your reason for travel and your intentions on site are in accordance with the visit objectives authorized by the B2 visa;
You have enough financial means to economically cover your stay in the United States;
You intend to return to your home country as soon as your visa expires and you will not stay in the United States.
USA tourist visa application
To apply for a tourist visa for the United States, you must follow the following steps:
Submit form DS-160;
Pay the visa fees;
Schedule your interview for a B2 visa;
Prepare your supporting documents;
Attend the interview for the visa.
Attend the interview for the visa.
You can easily fill out the DS-160 form online without assistance. Fill in your personal information as well as details about the purpose of your visit. You must complete the tourist visa application form and submit it online. After submitting your application, you will come across a verification page and a personal code will be assigned to you and communicated for your supporting documents.
Payment of B2 visa fees
The tourist visa application fee is $ 160. In order to validate your visa application, you must pay these fees when you submit your application online. Depending on the international relations between your country of origin and the United States, you may also have to pay other additional fees to finalize your visa B2 process. These additional costs are called "visa fees" and vary from country to country. When you pay all the requested fees, make sure to keep the receipts and add them to your B2 visa voucher file.
Schedule your interview at the US embassy or consulate
All US Tourism Visa applicants aged 14 to 79 are required to interview the US Embassy they are applying for. To obtain this interview, you must plan it with the US Embassy in your country. Due to the high workload of embassies, be sure to schedule maintenance as soon as possible. When your interview request is validated, you will receive a confirmation letter of the interview that you will need to bring on the day of the interview.
Prepare your Visa B2 supporting documents
The supporting documentation for the B2 visa that you must prepare includes all supporting documentation demonstrating to the US Embassy that Visa B2 can be given safely. You must bring all the documents during your interview at the embassy.
Here are the documents required for a B2 tourist visa application:
A valid passport;
A picture respecting the requirements for an American visa;
Confirmation of the submission of Form DS-160 and the code;
Proof of payment of visa fees;
The confirmation page of scheduled maintenance;
A detailed letter that describes the reason for your trip;
The justification of your financial means to travel: Bank statements attesting that you have the financial means to stay in the United States with a minimum of 266 USD of expenses per planned day of stay;
Your links with your country of origin: A contract of employment, a lease or an act of ownership which prove that you will return to your country of origin at the end of your stay;
An optional US visitor visa invitation letter sent by friends or family members to the United States;
A criminal record or letter from the authorities stating that you have no previous convictions.
More specifically in each of the following special cases you must attach some additional documents:
For those who have already been to the USA: Documents relating to the contents of previous visits;
For students: transcripts or diplomas;
For the workers: A letter from your employer and payslips of the last three months;
For those visiting their family: Photocopies of your parent's status in the United States.
For those who come for medical treatment: Letters from doctors about your diagnosis and treatment.
Attend the interview at the Embassy
On the scheduled date of your interview, you will visit the US Embassy to meet with a representative of the US authorities. He will ask you questions about your background and why you want to travel to the United States. The Embassy team will review your documents to make sure everything is in order. The interviews do not last long, but be sure to provide all the necessary information to avoid problems later.
US Tourist visa | COVID 19
Recently, the process of obtaining a US visa also requires you to detail your presence on social networks by providing a list of your profiles and your username. Since the start of the COVID-19 health crisis, questions about your recent state of health and your vaccinations have also been added. To enter the United States, you must prove that you are up to date with your Coronavirus (COVID 19) vaccines.
Time to obtain a B2 visa
The processing time of the B2 visa can last from a few weeks to a few months. Processing times for obtaining the B2 visa USA tourism are different from one country to another. The delays are very much dependent on the workload of the US Embassy where you applied. If you do not hear from the Embassy, ​​be patient and wait until they contact you to let you know if your B2 visa has been obtained.
Validity period of the B2 visa
The maximum length of stay with a B2 visa is 6 months. During this time, you can travel to the United States or elsewhere. However, upon the expiry of your visa, you must return to your country of origin.
B2 visa extension
If you want to stay longer, you can get a B2 visa extension for an additional 6 months.
You must apply for a B2 visa extension at least 42 days before the expiry of your I-94 card. But beware, you are not allowed to apply in the first three months of your arrival in the United States.
Form I-539 completed;
Have a valid passport
A detailed writing explaining the reason for the requested extension;
Proof of financial resources for the new stay;
The payment of B2 extension fees in the amount of $ 370;
The original or photocopy of the I-94 card.
The processing time for the B2 visa extension varies depending on the number of requests processed by USCIS services at the time of your application.
Can I get a Green card with an American B2 visa?
It is very difficult to obtain the Green card for a permanent residence from a US tourist visa. Indeed, the B2 visa is a temporary US visa.
To obtain the US tourist visa, you must prove that you will return to your home country after it expires. The B2 visa does not allow you to look for a job or start studies. You can not stay in the United States longer than the time initially set out in your B2 Visa application.
Can my parents visit me in the USA with a B2 visa?
If you live in the United States, work or study, you can invite your parents to visit you. They can enter the United States on a B2 visa. They will have to follow all the processes explained above in this article. The only thing that will be a little different is the list of mandatory documents for parents.
You are responsible for collecting certain documents for your parents. They will also have to raise additional funds in their country of origin.
The B2 visa documents required for parents are:
Passports : Your parents will need to have valid passports;
Complete Form DS-160 ;
Provide a bank verification letter : You must submit proof that you are able to financially support your parents during their stay in the United States;
Verification of your employment : You will need to request this letter from your current employer;
Provide the letter of invitation : You will need to write a letter to your parents inviting them to visit you in the United States.